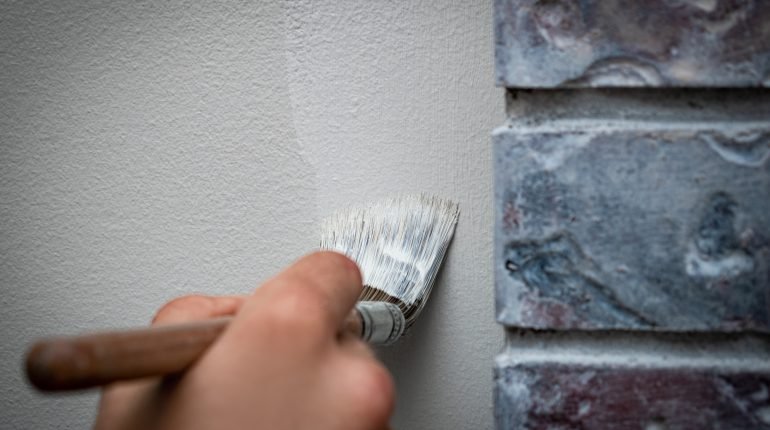 What is interior painting
Interior painting is a popular form of home improvement and can be done by both professional painters and do-it-yourself enthusiasts. Most common objects for interior painting include walls, ceilings, door frames, trim and other woodwork.
What are the benefits of interior painting?
Interior painting offers many benefits that can improve your home in several ways. For example, painters can increase the value of your home, brighten up small rooms or bring warmth to large spaces. Additionally, painting can promote healthy indoor air quality for your family by reducing fumes and odors.
Furthermore, painters can lower the production of dust and dirt, visually cover scratches and marks, and prolong the life of doors, windows, walls, and other areas. Additionally, painters can bring a fresh look and energy to your home, revitalize your space, and have a positive emotional effect.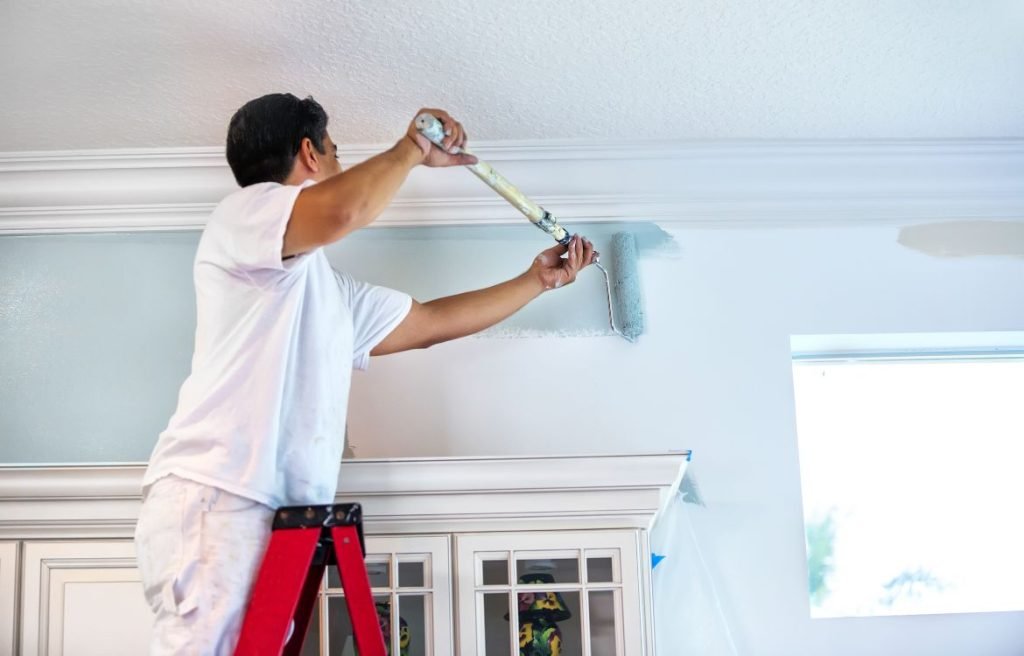 How much does it cost to paint the interior wall of a house?
The cost of interior painting depends on a few factors, such as the size of the room, the number of rooms being painted, and the paint quality. For example, the average cost of painting a 10×10 foot room is $200-$300. However, if you're painting multiple rooms or using high-quality paint, the cost can increase. Contact us to get an accurate estimate.
How do you know that the estimate is accurate?
There are a few things you should keep in mind to make sure the estimate is accurate. To paint a room, first, you'll want to get an idea of the size of the room or rooms that need to be painted. This will help you determine the square footage, which is a major factor in the cost of painting.
Next, you'll want to find out what paint will be used. Finally, you'll want to ask about any other factors that could affect the cost, such as time of day or week, number of coats of paint, etc.
How long does painting my interior take?
It takes about 8-10 hours to paint a standard-sized room. However, the time it takes to paint can vary based on the size of the room, the number of rooms being painted, the quality of paint, and other factors.
Can you paint your interior yourself?
Yes, you can paint it yourself. However, there are a few disadvantages to this process. If you're painting for the first time, you need to purchase all the tools and materials needed for the job, which can be costly. In addition, unless you're a professional painter, there's a chance that the final product won't look as good as you'd hoped.
You can damage your furniture, walls, and floors if you're not careful. Finally, painting can be a time-consuming process and time is money. If you're not prepared to invest the time and effort, it's probably best to hire a professional painter.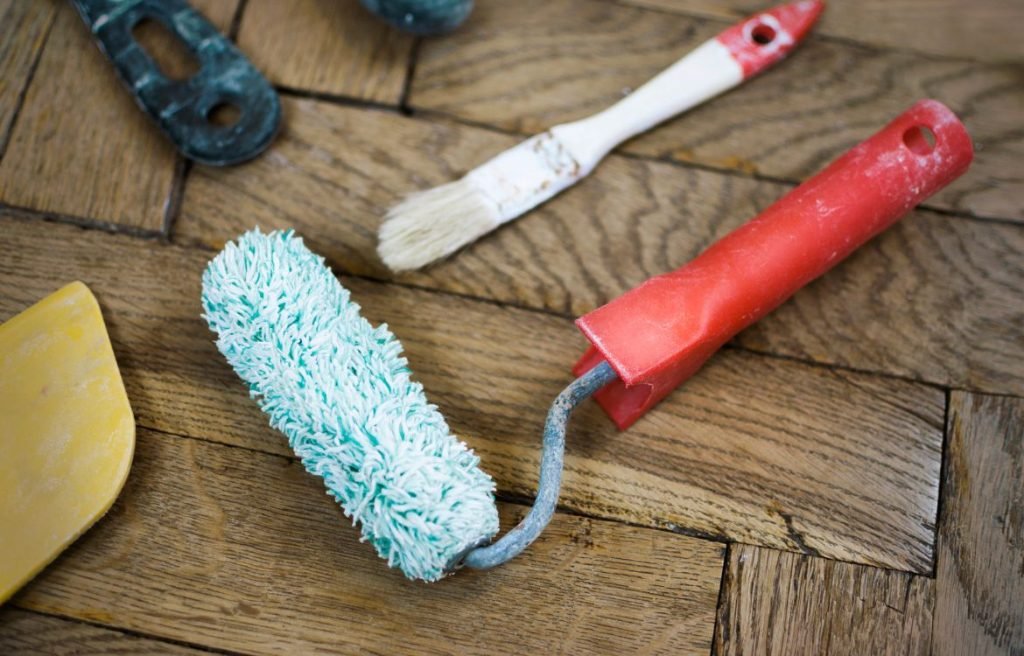 How can I save money while painting my home's interior?
So you have decided to paint the interior yourself. Here are some tips on how to save money while painting your home's interior.
Choose paint carefully. There are two main types of paint: water-based and oil-based. Water-based paint is less expensive and easier to clean up, but it doesn't last as long as oil-based paint.
Buy in bulk. If you're painting multiple rooms, buy your paint in bulk to get a discount.
Use a primer. Primer can help you achieve a better final product and often requires fewer coats of paint, which will save you money in the long run.
Paint during sales. Many paint stores offer sales and discounts throughout the year, so keep an eye out for these.
Types of paints
They come in different types, each with its own advantages and disadvantages. The most common types of paint are latex, oil-based, and acrylic.
Latex paint is the most popular type of paint. It is water-based, which makes it easy to clean up and it dries quickly. However, latex paint can sometimes show brush strokes and it isn't as durable as oil-based or acrylic paint.
Oil-based paint is more durable than latex paint, but it takes longer to dry and can be harder to clean up.
Acrylic paint is similar to oil-based paint, but it dries even slower. However, acrylic paint is the most durable type of paint, so it is a good choice for high-traffic areas.
Best painting brands
Some of the best painting brands for painting are Benjamin Moore, Sherwin-Williams, and Behr. These brands offer high-quality paint that will give you a professional-looking finish. In addition, these brands have a wide variety of colors to choose from, so you can find the perfect color for your home.
What color should I paint the interior of my house?
The best way to decide what color to paint the interior of your house is to consider the overall tone you want to create. For example, if you want a warm and inviting space, you might choose a lighter color palette. If you want a more dramatic look, you might choose darker colors.
Choosing a paint color might be more difficult than you think because you have to consider the colors of the furniture and flooring, the amount of light that your room gets and the quality and performance of the paint too. However, If your plan is simply to sell your house, you have to use paint colors that the real estate agents across North America recommend.
In general, they claim that neutral colors will generally spark more interest from buyers than bold colors. Have a look at our How to choose paint color blog post to help you with the color selection process.
Painting process
We have another article that describes the interior painting process in detail. Please read it if you're looking for a more comprehensive guide.
Choose your paint: Decide on the overall tone you want to create, then narrow down your choices by considering the undertones of each color.
Choose your primer: It improves paint adhesion, paint protection and color.
Choose your painting tools: At minimum, you'll need a paintbrush, a roller, and drop cloths.
Prepare the room for painting: Remove all furniture from the room and cover the floors with drop cloths. Use painter's tape to cover any areas that you don't want to paint.
Paint the interior walls: Start with the primer and then paint the walls with your chosen paint color. Use a brush for the edges and a paint roller for the rest of the wall.
Let the paint dry: Once the paint is dry, you can put the furniture back in the room.
Clean up: Remove the drop cloth, and clean up your paint brushes and rollers before you put them away.
Tips from our painters
Here are some tips that will help you make a perfect painting job.
Mix several cans of paint together to get a consistent color. This is especially important if you're using recycled paint.
Use a primer before painting. Primer can help you achieve a better final product and often requires fewer coats of paint, which will save you money in the long run.
Clean dirty interior walls before painting. This will help the paint to adhere better and will also save you from having to use more paint.
Use painter's tape to create clean lines. This will help you achieve a professional-looking paint job.
Paint in the shade. Painting in direct sunlight can cause the paint to dry too quickly, which can lead to brush strokes and other imperfections.
Take your time. Don't rush the job. Painting is a process, and taking your time will help you to achieve the best results.
Plan ahead. Make sure you have everything you need before you start painting. This includes the paint, primer, painting tools, and drop cloths.
Use latex glows. Latex gloves will protect your hands from paint and will also help to keep the paint from staining your clothes.
Wear old clothes. Painting can be messy, so be sure to wear clothes that you don't mind getting paint on.
Remove switch plates and outlet covers. This will help you to avoid painting around them.
Paint the trim first. Painting the trim before the walls will help you to avoid getting paint on the walls.
Use a small brush for tight spaces. A smaller brush will help you to paint around door frames and other tight spaces.
Paint the ceiling last. Painting the ceiling after the walls will help you to avoid drips and other paint imperfections.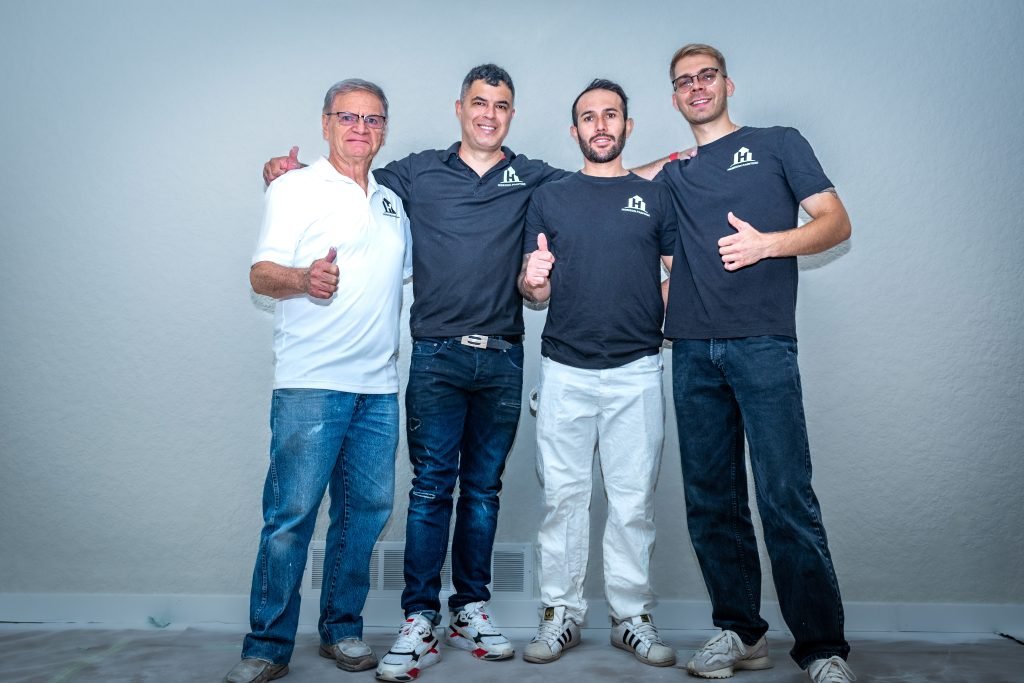 Painting techniques
You can use a combination of them to create an interesting look. You can start by painting the walls with a base color by following the procedures described on the Horizon Painting website and then use a variety of sponging, stippling, and stenciling techniques using a secondary color to create a textured effect. Hereby you can for example imitate the finish of a thin wood sheet.
Tipping off: To maintain a consistent texture on the base color, the technique that professional painters use is called "tipping off" which consists in applying the paint evenly by using a roll from ceiling to floor and advancing no more than five to six feet wide for every load of paint and then come over the area that was just painted and gently give it a final roll in the same direction but using just the weight of the roller frame without applying any additional pressure like you had to use at the beginning of this task.
Sponge painting: By using a natural sea sponge you can obtain more varied, random patterns than by using manufactured sponges. Latex paint dries fast and washes easily out, so you will need only one sponge.
Stippling painting: The art of stippling consists in building colors in a subtle way using a stiff bristle brush. Any type of firm brush can be used for this type of painting. The technique allows the painter to achieve beautiful gradations of color with variations in the intensity of the colors applied. You can even use dark, medium, and light colors when stippling to create depth.
Stenciling technique: You can use wall stencils with your preferred design. But In order to obtain a clean stencil line and avoid paint bleeding under the stencil we recommend using very little paint in a mini foam roller or in a stencil brush. Doing several thin coats one over the other will work well.
Where to look for interior painters
When looking for a home painter, it is important to find someone who is experienced and reliable. One of the most reliable methods for finding a professional painter is through the use of online directories. You can use social media, Google, or another browser to search for local painters and read customer reviews.
Word of mouth is also a great way to find painters. Talk to friends, family, and neighbors to see if they have any recommendations.
Home improvement stores are also a great source of good professional painters' recommendations. Ask the store staff or look for business cards about painting services.
How to choose the right painter
Once you have a few potential painters in mind, it is important to verify their credentials. Find out how long the painter has been in business and ask to see examples of their work.
It is also important to ask for references. Ask the painter for a list of previous customers who can provide feedback on their work. This will help you determine if they are reliable and trustworthy.
Finally, request detailed estimates for the project, and ask about the type of paint and the techniques they use to ensure the best result.
Get quotes from at least three different painters and compare them to determine which one is the best value.
What to do when you have chosen a painter?
When you've chosen a painter, it's important to establish a clear contract outlining the details of the job.
Make sure to get a written guarantee of their work, as well as a timeline for when the project will be completed. 
How is the interior painting price estimated?
When it comes to interior painting, there are a variety of options available to choose from. The type of painting job you select for your interior will depend on the desired look and the amount of money you are willing to spend.
Basic Paint Job:
A basic interior paint job for an average 660 square feet home can range from $1,200 – $2,000, depending on the number of coats of paint needed.
This type of job will usually involve one coat of high-quality paint, with a basic finish on the trim, doors, kitchen, and washroom that will likely need to be touched up in a few years.
Mid-range paint job
A mid-range interior paint job for a 660-square-foot house usually costs around $2,500 – $4,000. This type of job will typically involve two coats of high-quality paint and a semi-gloss finish on the trim, doors, kitchen, and washroom.
This level of the paint job will usually last for several years before needing to be touched up.
Premium paint job:
When it comes to the price per square foot of a wall at a premium painted level, there are a few different factors to consider. First, the type of wall will determine the cost. For instance, a brick wall may cost more than a drywall wall, due to its increased labor and material costs.
Additionally, the size of the wall will also influence the price. A larger wall will require more paint and may cost more per square foot. For a truly luxurious interior paint job for a 660-square-foot house, you can expect to pay around $4,500 – $7,000. This type of job will usually involve three coats of high-end paint on walls and a glossy finish on the trim, doors, kitchen, and washroom.
Conclusion
Thank you for reading our short introduction to interior painting till the end. If you're looking for an interior painting service, don't hesitate to contact us at Horizon Painting.