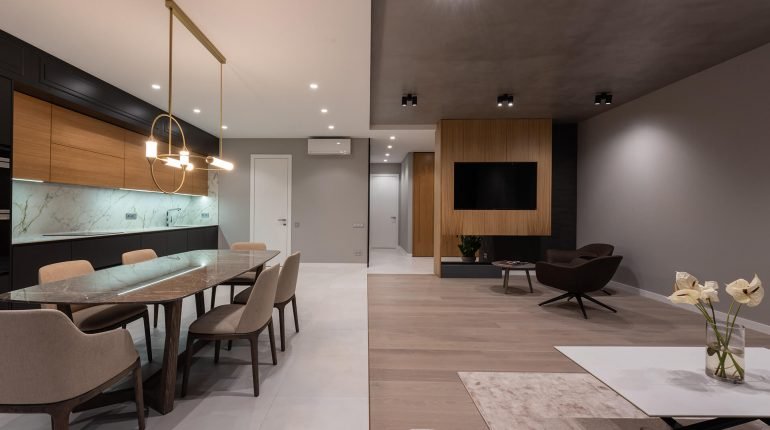 Detailing with a brush the paint limits between the wall and the door frames.
Introduction:
Our feelings, desires, and many times our emotions are affected by the color painted on our house walls as described in our explanations about how to choose a paint color and how the property value increases after a good interior painting are finished. These ideas can make us ask the following question: How transcendental a simple wall paint can be in our lives? We are going to answer this question in the following informative sequence.
Paint history
The first example of paint-making was discovered a few years ago in the Blombos cave in South Africa, and it dates back about 100,000 years. The earliest paints would have used a variety of mineral and organic-based pigments. The paint found in South Africa was made from red Iron Oxide and charcoal and used bone marrow as a binder. Iron oxide pigments were highly valued for their durability, and prehistoric mining trails around the famous Lascaux Cave in France suggest that 25,000 years ago, painters traveled many miles for these materials.
Ancient interior wall painting techniques:
Ancient interior wall painting techniques as the one called "paperhanging" employed paper that was glued to the wall. Kalsang Norbu in his master's thesis noted that painting on paper allows for richer details in the depiction. Another technique was called Powder embossing, usually followed by gilding, wherein chalk and binding media are mixed in a certain ratio, filled into a container, and squeezed out through a small opening. An orange pigment layer is often applied before gilding to increase the brightness. Then, a metal powder or foil (either genuine gold or imitation gold) is pasted on the embossed outlines.
There is an interesting article about this subject entitled: "Studies on wall painting materials and techniques at two historic buildings in Gyantse, Tibet", that was written by Xinhui Yang and co-authors (https://rdcu.be/cVabG). But in order to make a long story short, we introduced some changes to this paper, which presents a scientific examination of wall paintings at two nonmonastic sites in Gyantse, Tibet: Gazhi Lhakang, which is a family temple built in the mid-eighteenth century by local aristocrats, and the Lotso Residence, which was occupied by Nepalese merchants in the early twentieth century. Samples were analyzed with optical microscopy, scanning electron microscopy with energy-dispersive X-ray spectroscopy, Raman spectroscopy, and X-ray diffraction. Two phases of painting—an early phase and a late phase—were identified in Gazhi Lhakang, including three distinct types of mural stratigraphy. The following pictures can illustrate part of what the researchers found: https://media.springernature.com/full/springer-static/image/art%3A10.1186%2Fs40494-019-0282-x/MediaObjects/40494_2019_282_Fig1_HTML.jpg?as=webp
As part of the researcher's conclusions from this study, they found after the complementary use of optical microscopy, SEM-EDS, Raman spectroscopy, and XRD which allowed for the identification of the minerals contained in the murals at Gazhi Lhakang and the Lotso Residence in Gyantse, Tibet that the coating and ground layers varied from the description in the literature, while the basic materials are still clay and sand. The identified natural and synthetic pigments were consistent with many previous findings at other sites in Tibet and Nepal.
In other regions of the world, the Egyptians made paints with binding agents like eggs and began painting on plaster. Greeks and Romans expanded upon these techniques, to create a painting style not matched until the Renaissance when Italian artists made paint with plant oils to create works of astonishing color and depth that still captivate viewers today
Prior to the 19th century, painting the interior walls of a home would have been an on-site job done by a small cohort of professionals but the invention of aniline dyes in the 19th century expanded consumer choices.
Modern painting techniques:
After the invention of aniline dyes, enamel wall paint was introduced to European and American homes in the late 19th century. It required at least 10 undercoats, and each one was carefully rubbed down and left to dry completely between each layer. The final coat of enamel was applied to the wall with minimal brush strokes, resulting in a sheen that could rival that of a new car.
In 1833, Benjamin Moore opened its doors. This would come a few decades behind its current most notable competitor, Sherwin-Williams.
Throughout the 1900s, Benjamin Moore invested in researching and developing chemicals designed to improve paint mixing. Several painting techniques were also simultaneously developed. In 1982, the paint company designed the computer-based color matching system, which is now an indispensable tool when it comes to paint color selection.
Modern paint chemical composition:
All paints generally have four main ingredients — pigments, binders, solvents (liquids), and additives. Pigments provide color and hide, while binders work to "bind" the pigment together and create the paint film.
Recent environmental requirements restrict the use of volatile organic compounds (VOCs), with very low amounts of solvent, or even none at all.
Best Interior Paint options available today:
We have a detailed list of the best paints on the market and complete information about the Coquitlam paint stores in our website posts. There's a lot more to choosing interior paint than picking up color. You have to consider the colors of the furniture and flooring, the amount of light that your room gets, and the quality and performance of the paint too. In this last regard, the two best interior paint options available today are:
EMERALD ® from Sherwin Williams is the finest paint with unsurpassed overall performance. It is available in Flat, Matte, Satin, and Semi-Gloss. https://images.sherwin-williams.com/content_images/SW-PDF-CA-PRO-POPULAR-EN.pdf
AURA® Interior continues to redefine what the highest quality luxury paint should be, not only in its appearance but also in its performance. "https://www.benjaminmoore.com/en-ca/interior-exterior-paints-stains/aura-interior-paint?gclid=Cj0KCQjwpeaYBhDXARIsAEzItbFW-92_HA5LfypGO1qgMkAZ0UathNGES2ILrhSu2JW1S2NDY_ybDGEaAlGIEALw_wcB&gclsrc=aw.ds"gclsrc=aw.ds
At Horizon Painting we usually suggest to our customers colors and combinations to develop painting ideas; regularly by the use of different paint types to bring fresh energy to a living space. On the other hand, something that we consider of greater importance is to let them know what colors the real state agents across North America had found to be helpful to sell a house because they claim that neutral colors will generally spark more interest from buyers than bold colors. https://help.azcentral.com/