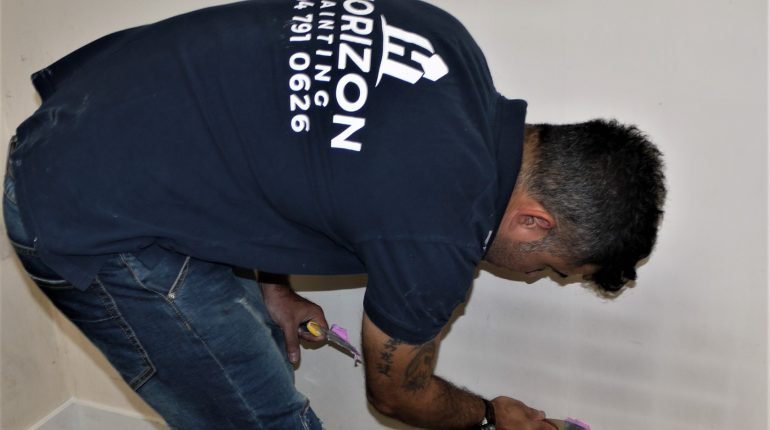 If you've recently had drywall installed in your home, there are a few preparatory steps you'll need to take before you can paint it, In this blog post, we'll discuss what those steps are and why they're necessary.
One of the most important steps is using light to find any imperfections that need to be fixed before painting. If you don't fix them, they'll show up as bumps or blemishes in your finished paint job.
To find these imperfections, you'll need some good lighting. A bright work light or a flashlight will do the trick. Shine the light at an angle from right to left or from left to right on the surface of the drywall to find bumpy, scratched, or uneven areas. If you don't fix them, they'll show up as bumps or blemishes in your finished paint job.
Once you've found an area that needs attention, use a small piece of painter's tape to mark it off. Then take care of the problem by filling in the area with filler until it's even with the rest of the surface. Let the filler dry completely, then sand it carefully until it's smooth.
Once the walls are sanded and smooth, it is time to apply a primer. Primer serves three main functions: First, it blocks stains from bleeding through. Second, it allows one-coat coverage for the paint. Third, and most important, it improves paint adhesion, which greatly reduces blisters and peeling and will provide a more even coverage.
Finally, it is time to select the paint color and start painting! to do it properly, just follow our website landing pages instructions:

How to choose paint colors
Interior painting process
How to paint trim
Kitchen cabinets painting
Trim painting
Interior painting
Cabinet refinishing
Paints and tools
How light affects your house paint color

If you wish to have additional information, you can also read our recently published blogs
CONCLUSION
Always keep these painting tips in mind and you'll be sure to obtain the best interior paint finishing for your home, but if you do not have the time it will be very important to hire a professional painter who can help you get the job done quickly and efficiently. A professional painter will have the experience and expertise to know exactly how to prepare any area of your house for painting, as well.
Furthermore, if you are looking for general interior painting tips and our processes, you are welcome to read our Horizon painting Coquitlam interior service landing page
The shining of light in an angle, patching and sanding procedures pictures: